Si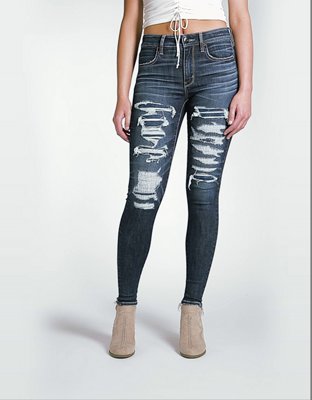 nce its debut in 1977 American Eagle Outfitters has been known for its casual outdoor inspired fashion apparel. This holds true to this day but has expanded this to include full lines of fashion for both men and women. They are not just your denim fashion stores anymore. They still have the best denim fashions out there on the market today in my opinion. But it's nice to see them with full lines of trendy comfortable fashion for the everyday wear.
The American brand rooted itself very much into their denim heritage. And has been passionate about providing the highest-quality products. This still holds true for today.
American Eagle's style movement that has been 40 years in the making. Has been one of influential, inspiring, inclusive, and fun.
Their innovative fabrics and fits have positioned them as America's favorite jean brand which I would have to agree with. But while jeans have been their heart and soul. They also design a high-quality assortment of apparel and accessories. Ones that reflects the customers' individual style. At an approachable value for all budgets.
They are not just passionate about making great clothing. They are passionate about making real connections with the people who wear them. this is something clothing brands have forgotten about over the years.
U
nless you have been living under a rock for the past 40 years. You already know about American Eagle outfitters legendary line of jeans for both men and women. But what you might not know is that on the website they have a Denim Glossary that has Denim fit specs. This will help you decide on the perfect fit. One that you may always have been looking for in your jeans.
Check out the full line of casual outdoor inspired fashions.
Pretty much the same line that they have the women. They have for the men, not including the bikinis and bras.
But they didn't stop at that. They carry a full line of Men and women tailgate line. Shop for hoodies, sweatshirts, T-shirts, and Jackets. For all the major school's sports teams.
Accessories that will complete any look you're going for. They have sunglasses, scarfs, snoods, hats, and much more. So make sure you check them out and complete your look.
And a full line of Beauty products for both men and women. For the women check out the body mists, Body lotions, and more. For the men, they carry body sprays, EDT, and a full line of grooming products.