UNLOCK HIP FLEXORS GIVES YOU A PRACTICAL, EASY-TO-FOLLOW
PROGRAM. YOU CAN USE TODAY FOR INSTANTLY RELEASING YOUR HIP FLEXORS.
FOR MORE STRENGTH, BETTER HEALTH AND ALL DAY ENERGY.
W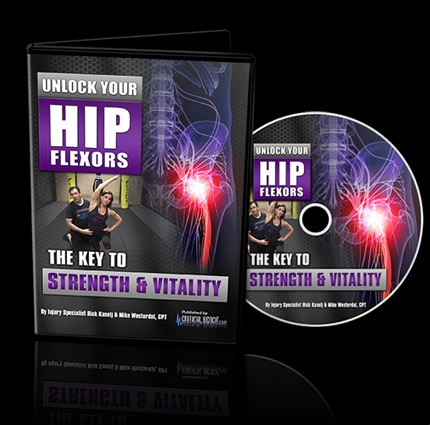 e've shot these 10 exercises with explanations from Rick on perfect form. Exactly how to target that hard-to-reach psoas muscle. The video content is split in two:
The first is a Coaching Instructional Video where Rick takes you in detail through each exercise, so you fully understand why you're doing that exercise. The best form to take and how it should feel.
The second video is a Follow Along format designed so you can perform the flow alongside the video without breaking for an explanation.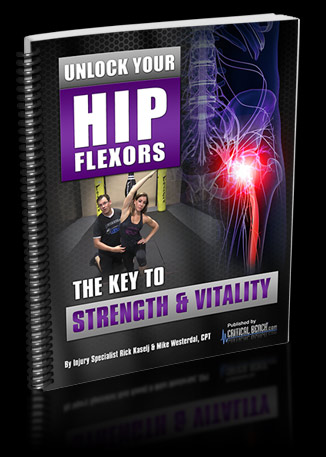 You'll receive a highly targeted manual with greater depth about the psoas muscle. The effects of its shortening on your health and well-being. It also includes detailed descriptions of the exact exercise movements with pictures.
Nagging joint pains in your legs, lower back or hips
Walking with discomfort
Lack of Explosiveness in the gym or sports
Hips locking up
Loss of sexual performance
Bad posture
Circulatory issues
Trouble sleeping
Compromised Immune System
Sluggishness in day to day life
Digestive problems
High Anxiety
Y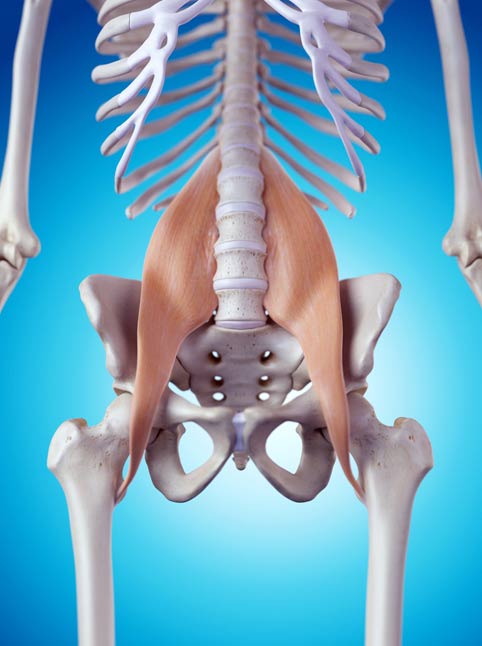 our hips are the center of your body's movement. They bridge your lower body to your upper body.
The Psoas major muscle sits well within your Hips and lower spine. It is one of the two muscles that make up the iliopsoas.
It is sometimes referred to as the "mighty" psoas. This is for the many important functions of the movement of your body it plays.
The psoas is the only muscle in the human body that connects the upper body to the lower body.
The muscle is attached to the vertebrae of the lower spine, moving through the pelvis and connects to a tendon at the top of the femur. It also attaches to the diaphragm, so it's connected to your breathing, and upon it sits all the major organs.
With a functioning psoas muscle, a neutral pelvic alignment is achieved. This stabilizes the hips. Supports the lower spine and abdomen. It also supports the organs in the pelvic and abdominal region. The psoas gives you a greater mobility and core strength.
When it functions well, it has the power to…
… achieve peak performance day after day after day.
… rapidly lose ugly body fat that stubbornly clings to your body.
… train harder, heavier and gain strength faster than you thought possible.
… be at your peak of sexual health.
… flood your mind and body with renewed energy and vigor.
Put simply, this muscle is the core of activity in your body. So, when it's out of balance or if the psoas tightens, there are serious consequences which flow throughout the body.
Exactly how to target those hard-to-reach muscles with detailed, step-by-step walk-through. Videos of every single Key Move (Rick's simple, clear demonstration of these powerful moves will help them become second nature in no time).
The No.1 single most important element of human body posture. Why your hips hold the key to peak performance. If this fails, your performance is drastically affected whether running, walking or even just standing.
What the real impact of your bodies Mighty Muscle is. Plus just how it affects you both physical and emotional well-being. Surprising just how big of an impact it has on you
The simple means to clear your mind and re-energize your thinking. This thru learning to relax your psoas muscle. Because this alone will help you wipe all the stress from your mind.
So now that you have seen the tip of the Iceberg GO HERE TO UNLOCK  HIP FLEXORS. You will see the complete story about that "mighty" muscle the hip flexor. Inside you will also see the complete program for a ridiculously low price. Plus two awesome bonuses and I've reversed all the risk of your decision to buy the program.
The next step is up to you. So come unlock hip flexors.
You could read this and simply think to yourself "sounds good, but I can do this myself" or "I'll come back to it later". But what happens in a few days time? In a week's time? In six months' time?
Will you still be feeling the damaging effects of tight hip flexors when you hit the gym, sit at your desk all day or try sleeping soundly at night?
A few weeks from now, that nagging pain starts to irritate you again or you'll look in the mirror and wonder why you're still unable to shift that last bit of body fat from your tummy.
Three months later, as you take a couple of painkillers to numb your back pain, you'll suddenly remember reading this letter and wonder… how would I be feeling right now had I taken action back then?
I hope that's not the path set out for you.
Instead, I want to you take the path followed by so many other satisfied guys who've invested in Unlock Your Hip Flexors.
Within days – no, hours – of going through the easy-to-follow Key Moves, guys were already writing me to tell me how dramatic the change felt.
After a week of following the program, you've made it part of your everyday routine. You barely even notice you're doing it.