---
The world of gaming has taken huge leaps in the last few years with the emergence of VR headsets and VR systems. If your not really sure VR is nothing more then Virtual Reality. VR technology allows us to transport ourselves to anywhere other than where we are at the moment. Bring to us a whole new experience. And as this technology keeps getting better and better it won't be long till all our gaming will be done on a VR system.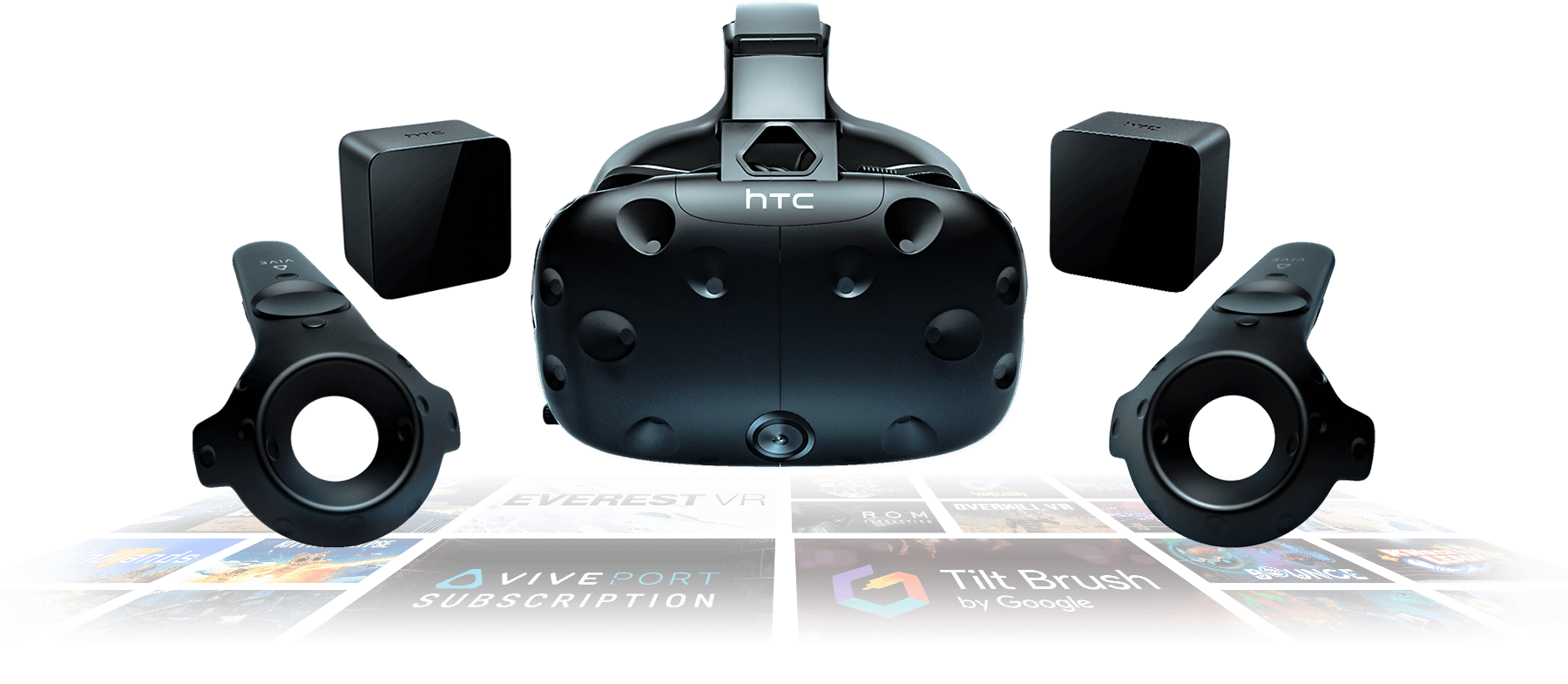 The VIVE VR system offers you:
Adjustable straps and interchangeable inserts
Front-facing camera
Eye relief adjustments
Fits most glasses
Screen: Dual AMOLED 3.6'' diagonal

Resolution: 1080 x 1200 pixels per eye (2160 x 1200 pixels combined)

Refresh rate: 90 Hz

Field of view: 110 degrees

Safety features: Chaperone play area boundaries and front-facing camera

Sensors: SteamVR Tracking, G-sensor, gyroscope, proximity

Connections: HDMI, USB 2.0, stereo 3.5 mm headphone jack, Power, Bluetooth

Input: Integrated microphone

Eye Relief: Interpupillary distance and lens distance adjustment
Designed exclusively for VR
Intuitive controls and gestures
Realistic HD haptic feedback
Sensors: SteamVR Tracking

Input: Multifunction trackpad, Grip buttons, dual-stage trigger, System button, Menu button

Use per charge: Approx. 6 hours

Connections: Micro-USB charging port
360-degree play area tracking coverage
Wireless syncing
Fits standard threaded mounting points
Graphics*: NVIDIA® GeForce® GTX 1060 or AMD Radeon™ RX 480, equivalent or better.

Processor: Intel® Core™ i5-4590 or AMD FX™ 8350, equivalent or better

Memory: 4 GB RAM or more

Video out: HDMI 1.4, DisplayPort 1.2 or newer

USB ports: 1x USB 2.0 or better port

Operating system: Windows® 7 SP1, Windows® 8.1 or later, Windows® 10
 Viveport is the official VR app store for VIVE. Download today to discover hundreds of virtual reality experiences, and start your free trial for Viveport Subscription – the best way to play new games and apps every month at one low price. With over 250 VR experiences and growing.